Ravioli with black truffles and cheese sauce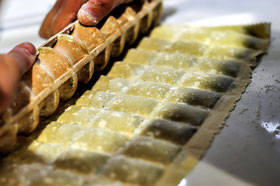 This is certainly one of the most delicious recipes we have discovered lately. Not necessarily suitable for the diet, but irresistible and easy to cook.
---
Preparation:
For the ravioli, bring to boil a large pot of water with a tablespoon of salt and a few drops of olive oil.
At the same time, fry the chopped scallops in about 20g of butter until they take color. Now add the pressed garlic and roast slowly with the scallops for another minute. Add the white wine. Let the wine boil in half, then add the stock. As you let it boil, add the cream and a pinch of salt then simmer on the medium flame for about 15 minutes until the sauce thickens.
Now add the Gorgonzola and let the mixture boil for a further 10-15 minutes. The larger Gorgonzola pieces in the pot must be well-crushed. If using a blender, turn it into some puree, let
it simmer further, then season according to your taste with a bit of pepper and salt. Put the ravioli in the boiling water and cook for 3 - 6 minutes depending on the cooking instructions.
Prepare the ready-made ravioli on a large plate or a flat serving plate and pour the cheese sauce slowly over the ravioli. Sprinkle a few drops of the truffle oil over it and decorate everything
generously with the freshly shaved truffles and some basil  eaves. The best side dishes?
Fresh baguette and summer salad as well as a glass of well-cooled Gavi di Gavi.
Buon appetito !!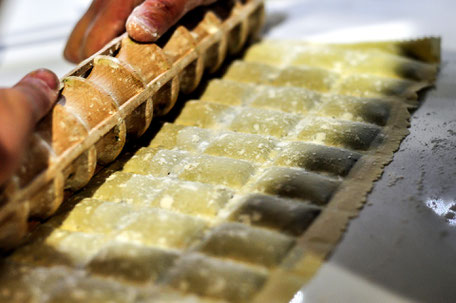 ---
Ingredients (For 4 people:):

600 g fresh ravioli with meat, mushroom or vegetable filling
1 black truffle or, if not available, 20-30g already shaved truffles from the glass
1 tsp fresh truffle oil from white or black truffles
For the cheese sauce:
150 g creamy Gorgonzola (without edges)
200 ml of fresh cream
200 dl dry white wine
200 ml chicken or vegetable broth
2 small-sized scallops, finely chopped
2 cloves of garlic, pressed
20g butter, pepper, salt